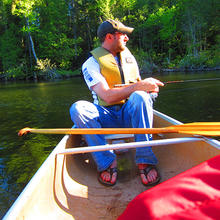 Position:
Research Support Specialist
What do you do here at Wright Lab? 
I provide engineering support for experimental groups around the lab. The form that support takes really varies from day to day and project to project. Depending on project needs, I could be aiding in the planning and initial design phases of the experiment, or drafting production drawings and interfacing with the professional shop/outside vendors, or possibly coordinating the final assembly effort. Essentially, anywhere mechanical design or engineering expertise is needed, that is where I plug in.
What is the most unique and/or exciting experience you've had here at Wright Lab?
Long before I officially became part of Wright Lab, I was here for the construction of the PROSPECT detector. The intensity of those final days of assembly is something that I cannot forget. The memory of the focus and effort of the group, along with the satisfaction once we finished, will be seared in my mind forever.
What is something that people might not know about you that you'd like to share with the community? 
I enjoy backcountry camping, especially in areas like the Boundary Water Canoe Area Wilderness.
Where do you like to work remotely?
I've carved out a nice workspace in the front room of my apartment over the course of this situation. Each week it evolves a little as I find creative ways to optimize the space. However, I do miss working with hardware and I am really looking forward to getting back into the lab.