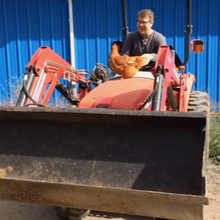 Position:
Research Scientist, Associate Director for Instrumentation and Education
What do you do here at Wright Lab? 
I do one or two things.  I work on a couple of research projects; mostly the Project 8 neutrino mass experiment.  I run the Advanced Prototyping Centre, helping people from all around campus design and fabricate all sorts of things.  I also do a few other things around the lab, run workshops, and generally have a good time. 
What is the most unique and/or exciting experience you've had here at Wright Lab?
I get to work on a lot of fun projects, but the most memorable recent one was making a 1/8 scale model out of plywood for one of the new additions to the Peabody Museum.  
What are you personally working on in regards to the Wright Lab COVID-response efforts?
At the beginning of the lockdown, I worked with some medical groups converting disposable plastic ventilator parts to 3D printable versions as the regular supply chains were having trouble keeping up with demand.  That has thankfully slowed down a great deal now.
What is something that people might not know about you that you'd like to share with the community? 
I grew up in the interior of B.C. and had a lot of horses.  But even out there in the far West, I pretty much exclusively ride English. 
Where do you like to work remotely?
The standard dining room table.