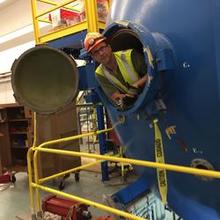 Position:
Research & Development Technician for Wright Laboratory Operations and Support
What do you do here at Wright Lab?  
As a Wright Lab operations technician, there is not too much going on in the lab that is out of my area of concern. It takes the continual diligence of our entire team to maintain the lab "at the ready" for researchers and staff, but the most interesting, fun and rewarding role we play is as a resource to enable our researchers to progress in their work. At Wright Lab, our operations crew has the skills, the equipment, the experience, and the patience to help get the job done right, even if, as is often the case, it's never been done before.   
If I am a researcher, how do I know when to call you?
I'm in the lab every day and it won't be long before you see me go by, as the daily demands of Wright Lab can really keep me on the move. In most cases, we will meet eventually, but you should never hesitate to stop me if you have a question, of any kind. I am always happy to help new researchers find their way at the lab and will do my best to either assist directly or to redirect you to the help you're looking for. If I'm not easily found, E-mail will do, either to me or to my supervisor, Jeff Ashenfelter. 
You may just be looking for directions, or maybe guidance with lab procedures and protocols; reporting safety, security or facilities issues, equipment needs, hazardous materials handling, heavy lifting, waste disposal, procurement of lab supplies…basically, when in doubt, just ask. I think I speak for all when I say that there is nothing our operations crew enjoys more than the opportunity to use our skills and experience to help facilitate the needs of our research community, and you will not easily find a more willing and able group to help you reach your goals.
What is the most unique and/or exciting experience you've had here at Wright Lab? 
Because I am so fortunate to have been involved in so many exciting and unique activities at Wright Lab over the years, I won't even try to pick one. Would it be the early support of CUORE during the decommisioning of WNSL and transformation to WL, or the all-hands-on-deck construction and move-out of the PROSPECT anti-neutrino detector, or maybe assisting in the development and safe use of a super-villain-sized liquid nitrogen vat with the HIRAX researchers? 
If I look back to the Wright Nuclear Structure Laboratory (WNSL) and my time on the team that operated and maintained the ESTU accelerator and its myriad of support systems and components, I am similarly at a loss to choose. Would it be the anything-but-simple pleasure of "Beam-On-Target," or the unique and challenging realities of an accelerator "Tank-Entry," or maybe it was the high-tech cooking of ion beams, using the often volatile, sometimes rare and exotic materials involved in "Ion Beam Sourcery"?…just being in the room with Lunar Soil was exciting! The importance of this time and the experience gained from working with that amazing group of professionals who welcomed me here in 2003, is priceless and immeasureable.
What is something that people might not know about you that you'd like to share with the community?
I grew up in Connecticut and graduated from UConn (B.S. Physics '92), but have lived in 5 states. In Santa Rosa, California, I was lucky enough to meet my better half. My wife, Julie, and I celebrate our 20th anniversary this year! Our daughter, Delsie (16), is in high school and our son, Nestor (19), is finishing his freshman year at Worcester Polytechnic Institute (WPI). I have too many hobbies and interests than I have the free time for, but I spend what I can gardening, practicing guitar, and, if I can get away for the day, kayak fishing!
Where do you like to work remotely?
Right now, I have a corner of the living room where my desktop lives, but I'd like to work from here…