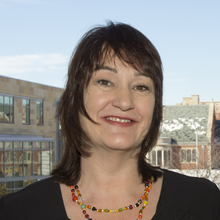 Position:
Lead Administrator for Astronomy and Physics
What do you do here at Wright Lab? 
My goal for Wright Lab, the Physics department, and the Astronomy department, is to take care of "the 3 Fs":  Folks, Finances and Facilities.  The fabulous Wright Lab staff accomplish this goal daily as they support research and education.  Daily, I attend a lot of Zoom meetings, monitor department finances, monitor compliance with university and sponsor guidelines, and navigate faculty and staff through Yale's finance and administration.
What is the most unique and/or exciting experience you've had here at Wright Lab? 
Once during a renovation project in Wright Lab-West, I climbed into the second floor mezzanine, which was fascinating-and a bit scary!
What is something that people might not know about you that you'd like to share with the community? 
I like scary novels.  I love to read almost anything.
Where do you like to work remotely?
Here is my workstation at home.  I took a picture during my Zoom meeting with Karen DeFelice.