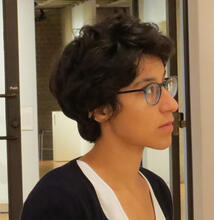 What do you do here at Wright Lab?  
I study heavy-ion collisions with the STAR detector at Brookhaven National Laboratory. I focus on how the size and the shape of the colliding nuclei affect the properties of the state of matter that is formed.
What is the most unique and/or exciting experience you've had here at Wright Lab? 
In 2019, I assisted professor Ágnes Mócsy for the seminar Physics Meets the Arts. First-year students learned physics concepts through various forms of arts in a very innovative approach. Some of the classes were even taught at the Yale Art Gallery. It was definitely a very unique experience for me! It completely broadened my experience of physics, arts and their intersectionality.
What is something that people might not know about you that you'd like to share with the community?  
I used to be an engineer before falling in love with physics and getting my Ph.D!
Where do you like to work remotely? 
I usually work at my desk.  For online conferences, I sometimes connect my computer to my TV screen for an immersive experience!