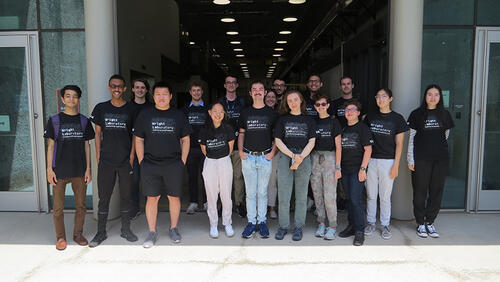 During the summer of 2022, Wright Lab hosted twenty undergraduate students who were mentored by Wright Lab faculty.  The students did hands-on research and participated in training and enrichment activities hosted by Wright Lab. (For a full schedule of the summer programming, please see here).
Wright Lab hosted two formal summer programs this year: the Wright Lab DOE Research Traineeship for Diversity in Nuclear Physics and the ONAOSI-Yale Undergraduate Research Experience in Instrumentation at Wright Lab.  The inaugural DOE trainee was Trent Rayford, and the seven ONAOSI-Yale program students were Tiziano Buzzigoli, Antonio Ferraloro, Margherita Montavoci, Guilia Colonna, Lodovico Maria Balzoni, Francesca Conti, and Andrea De Simone.
In addition, Terren Wise, who worked with Jack Harris, was part of the Research Experience for Veteran Undergraduate (REVU) program at Yale; a 9-week summer research program designed for Warrior-Scholar Project (WSP) alumni and enlisted U.S. military veterans. 
Eleven of the students were part of Wright Lab's usual annual summer research programming, including nine Yale College students (Audrey Cesene, Aaron Chizhik, Spencer Greenfield, Forrest Hutchison, Ana Maria Melián, Luke Mozarksy, Emily Peng, Rumman Rahman, and Barkotel Zemenu) and two from other institutions (Mary Zhang from Colby and Jason Guo from Cornell). 
Students were invited to present their research at one of two final symposiums, one on August 5 and one on August 18.  The agenda for the ONAOSI-Yale program on August 18 can be found here.  The August 5 presentations are listed below.
Spencer Greenfield, "Analyzing Drone Data from Flights Over Green Bank Observatory, Aug & Oct 2021," 

advisor, Laura Newburgh

Forrest Hutchison, "Constraining Cosmological Parameters with Large Scale Structure Observations from 

DESI," advisor, Charles Baltay

Ana Maria Melián, "Expanding Drone Beam Mapping to All Radio Telescopes," advisor, Laura Newburgh
Luke Mozarsky, " Optical Resonances in Dielectric Spheres,"advisor, David Moore
Emily Peng, "Constructing and exploring methods to load nanospheres into an optical trap," advisor, David 

Moore

Mary Zhang, "Studying the Cone-Size Dependence of Jet Suppression in Heavy-ion Collisions with PYTHIA," 

advisor, John Harris
The students who were unable to attend the presentations are listed, along with their advisors, here: Audrey Cesene (Newburgh), Aaron Chizhik (Fleming), Jason Guo (Newburgh), Rumman Rahman (Baltay), Barkotel Zemenu (Moore), Terren Wise (Jack Harris).
For more information about our summer programs, or for Wright Lab summer program photos, please see the links below.