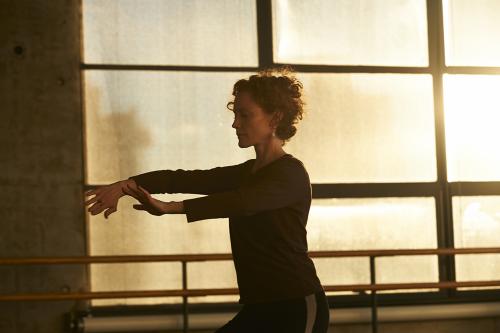 Emily Coates will join Wright Lab as artist-in-residence for the 2018-2019 academic year. Emily Coates is Associate Professor (adjunct) of Theater Studies and the Directing Program, and director of dance studies at Yale University. 
As a professional dancer, choreographer, and writer who has directed the development of dance studies at Yale since 2006, Emily brings to this work a unique foundation in science-art collaboration. For the past seven years, Emily has collaborated with particle physicist Sarah Demers through co-teaching a course and designing public lectures, workshops, and a short film. Their book, titled Physics and Dance, is forthcoming in the fall of 2018 from Yale University Press.
While at Wright Lab, Emily will be working on a research project, Moving and Being Moved at the Intersection of Science and Dance, that looks closely at the ways moving and being moved—both literally and imaginatively–contributes to our understanding of our animate and inanimate worlds. Focusing on a variety of sites in which dance artists and scientists collide, she is studying "zones of intensification," in which knowledge from one discipline interacts with and moves into another.  The research she will do while in residence at Wright Lab and the overarching research project will result in different outcomes, including writing, film, and live performance.
Emily Coates Biography

Over the course of her thirty-year career in dance, Emily Coates has performed worldwide with New York City Ballet, Mikhail Baryshnikov's White Oak Dance Project, Twyla Tharp, and Yvonne Rainer. Career highlights include dancing three duets with Baryshnikov in works by Mark Morris, Karole Armitage, and Erick Hawkins; principal roles in ballets by George Balanchine and Jerome Robbins; and the breadth of Rainer's work, from the 1960s to her six 21st century creations. Her solo and collaborative work has been commissioned and presented by Danspace Project, Ballet Memphis, Performa, Carnegie Hall, University of Chicago, Yale University Art Gallery, Wadsworth Atheneum, and Works & Process at the Guggenheim, among other venues. Her fellowships and awards include a grant from the Alfred P. Sloan Foundation in the category Public Understanding of Science, Technology, and Economics (with physicist Sarah Demers), and a fall 2016 Fellowship at the Center for Ballet and the Arts. Her book Physics and Dance, co-written with Demers, is forthcoming from Yale University Press in the fall of 2018. She is an associate professor adjunct in Theater Studies, with a secondary appointment in the Directing Program at Yale School of Drama. Since 2006, she has directed the development of Dance Studies at Yale. She graduated magna cum laude with a BA in English from Yale '06 and holds an MA in American Studies '11 GRD. She is currently completing her PhD in American Studies.