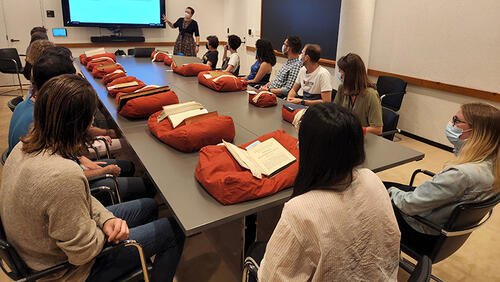 Yale University's Beinecke Rare Book & Manuscript Library (Beinecke) and the Medical Historical Library together house early editions of many milestones of achievements in physics, including those from Copernicus, du Châtelet, Galileo, Kepler, Newton, and other scientists from the 16th-18th centuries, with topics ranging from early materials science, astronomy and cosmology, physics, and mathematics.
Undergraduate students working at Wright Lab, the department of Physics, and the department of Astronomy for the summer were invited to experience and read fifteen of these works on July 13 as part of the 2022 Wright Lab programming for summer undergraduate researchers.
The program was held in a classroom at the Beinecke, and was curated and led by Science Research Support Librarian Kayleigh Bohémier.  The 15 works were by the following authors:
Nicolaus Copernicus. 1473-1543

Galileo Galilei. 1564-1642

Johannes Kepler. 1571-1630

Robert Boyle. 1627-1691

Isaac Newton. 1643-1727

John Lodge Cowley. 1719-1797

George Horne. 1730-1792

Isabella Cortese. 16th century

Margaret Cavendish Newcastle. 1623-1673

Gabrielle Émilie Le Tonnelier de Breteuil, 

Marquise du Châtelet (Émilie du Châtelet). 1706-1749

Caroline Lucretia Herschel. 1750-1848
Pictures of the enrichment session can be seen on our Flickr page here.