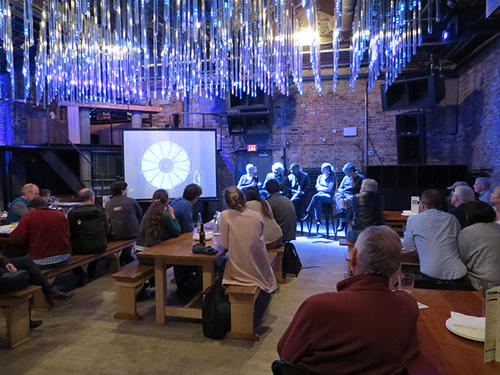 Wright Lab and the Yale Department of Physics hosted a Science Happy Hour at BAR in New Haven at 8:00 p.m. on Tuesday, April 23, 2019.  The event was advertised as "a casual evening about contemporary science" and included a panel of five professors - four of whom were from Wright Lab - with ample time for audience questions and engagement.
  The panelists were:
Keith Baker, a professor of physics and an experimental particle physicist. His research is in the ATLAS collaboration at the Large Hadron Collider.
John Harris, the D. Allan Bromley Professor of Physics and a fellow of the American Physical Society. His research recreates the primordial quark soup of the Big Bang.
Ágnes Mócsy, a visiting professor in the Department of Physics as a Yale Presidential Fellow and a fellow of the American Physical Society, on leave from Pratt Institute.
Sarah Demers, an associate professor of physics and co-discoverer of the Higgs Boson at the Large Hadron Collider.
Carl Zimmer, an adjunct professor in the Department of Molecular Biophysics and Biochemistry and a columnist and writer for The New York Times.
Harris and Mócsy co-organized the event; it is the third such event they have organized since 2014.
The panel discussed topics such as the early universe, dark matter, the Higgs Boson, how researchers "do physics," high energy colliders, how technology will lead to new discoveries, and the evolution of humankind.  The topics came about in free-flowing conversation driven by the interests of the audience and the expertise of the panelists.
According to Harris and Mócsy, the event was a great success and many audience members stayed well after the event ended, and some until BAR closed, to continue the conversation.
Harris and Mócsy said that the setting at BAR is conducive to a well-rounded discussion because "the breadth of knowledge of the panelists, both in and beyond their fields of expertise is essential for such a discussion. We have experience in teaching science, writing science and presenting science to a broad, general audience. The environment is a casual setting, where interested people can participate and have their questions answered, and those less interested are almost guaranteed to find a spark. There are no "dumb" questions. The venue encourages audience participation while enjoying a pint or a glass of the generously offered happy hour priced beverages."