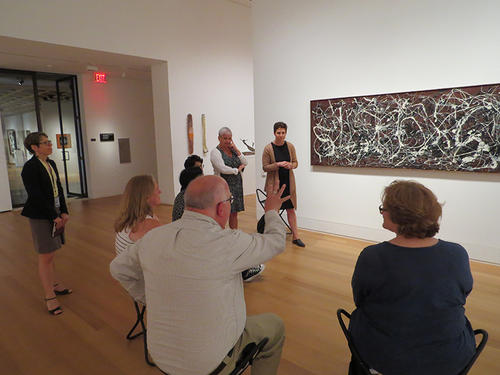 Faculty from the Yale University Department of Physics were invited to a special tour of the Yale University Art Gallery (YUAG) on August 7, 2019 given by Sydney Simon, the Bradley Assistant Curator for Academic Affairs at YUAG, and Ágnes Mócsy, Yale Presidential Visiting Fellow for 2018-19, who is currently in residence at Wright Lab.  Mócsy and Simon presented four works of art at the Gallery to the group, opening a discussion at each stop as to how the artwork intersected with the science of physics.   
Mócsy designed and taught a Yale College seminar called "Physics Meets the Arts" in Spring 2019, which included five class sessions held at the YUAG in collaboration with Simon.  The primary objective of this faculty tour was to demonstrate a few examples of how they approached teaching with the art in the course and to invite other physics faculty to consider engaging with the artwork at YUAG in their own courses.
Photographs from the tour can be found on the Wright Lab Flickr site.