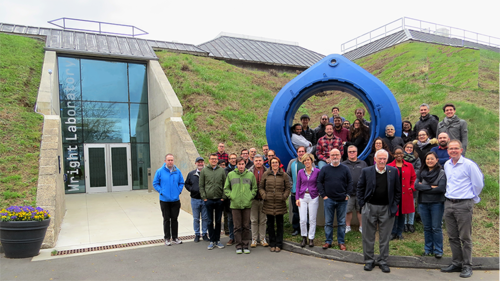 The CUORE collaboration held its Fall 2018 meeting at Wright Lab on November 9-10, 2018, with a satellite meeting about data analysis on the preceding day, November 8.
CUORE is a collaboration of over 100 scientists from over 20 institutions world-wide.  The meeting brought together 38 collaboration members from across the United States and Italy to review the current status of CUORE and plan for the future.  
The Yale members of CUORE who were in attendance are Karsten Heeger, Reina Maruyama, Christopher Davis, Danielle Speller and James Nikkel. Several of the Yale researchers hold leadership positions in CUORE:  Heeger is on the CUORE Executive Board and the Council (ex officio).  Maruyama is the Council Chair.  Davis is on the Detector Operation Board and the Outreach Group.