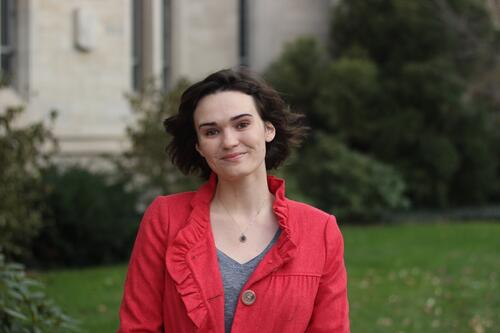 Claire Laffan, '21, who has done research with Wright Lab's Horace D. Taft associate professor of physics Sarah Demers on both her Mu2e and ATLAS projects, was featured in the October 28th issue of the Yale Society of Physics Students' newsletter. See below for full interview.
Name: Claire Laffan, '21
Tell us  a little bit about yourself
I am from Summerfield, NC, and I'm a senior in Berkeley College.
What are the exciting research projects or other activities you have done at Yale?
I have been working with Professor Sarah Demers since I was a first-year. I started out on the Mu2e project at Fermilab working on optimizing the triggering algorithm. Last year I transitioned to Sarah' ATLAS project, working on the VH → ττ analysis. My research has been one of my favorite parts of my college experience, because it really made me feel like I had a place in physics. I am also the project leader of the YUAA CubeSat team, an aerospace engineering project aiming to build a small shoebox sized satellite. Our satellite has been approved to launch with NASA in the near future.
Personal fun facts?
I love making pottery and am a big nerd for paleontology! After taking a paleontology class last year, I started my dinosaur phase as a 20 year old. This inspired me to apply for my current job with the Peabody Museum's Division of Vertebrate Paleontology.
What is your favorite remote working spot?
My favorite remote working spot is definitely Booktrader! I have always been a huge fan of the place, and I never took advantage of their patio seating before the pandemic.