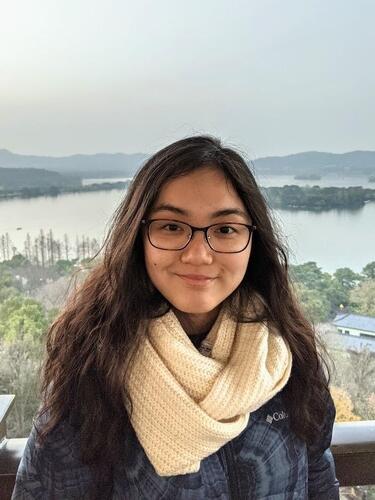 Jean Wang, '22, who has done research at Wright Lab with Associate Professor of Physics Reina Maruyama on the HAYSTAC project, was featured in the September 22nd (volume 2) issue of the Yale Society of Physics Students' newsletter.  See below for the full interview.
Name: Jean Wang
Tell us  a little bit about yourself
Hi! My name is Jean Wang Huaijin (she/her). I'm a junior and a prospective double major in Physics and Philosophy. I was born in Shenzhen, China and moved to study in Singapore when I was in middle school. I love reading, playing Go, cycling ,and watching F1. I'm currently taking classes from home in China and trying to survive the 12-hour time difference.
What are the exciting research projects or other activities you have done at Yale?
I have been doing research at Prof. Reina Maruyama's lab with HAYSTAC, searching for dark matter axions using a quantum-enhanced microwave cavity setup. I have worked on calibrations, axion data analysis, and setting up a data monitoring framework for the experiment. This summer, I started working on a remote research project at MPI for Plasma Physics on developing efficient algorithms for stellarator neutronic analysis and optimization.
I'm the president of Bulldogs Racing, the Yale Formula SAE team. We design and build electric race cars and participate in the FSAE Hybrid race. When on campus, I usually spend a lot of time in the Mason Lab garage building the car with my teammates. This semester, I am developing a vehicle dynamics simulation for the torque vectoring and regenerative braking systems of our car.
I enjoy exploring the intersection of science and the humanities, the profound impacts of scientific progress and how it intertwines with our intellectual history. I'm an organizer with Yale ReDirected Studies. Through events such as reading groups and seminars, we seek to critically reflect on the limitations of the 'Western canon', as well as to study intellectual and cultural works typically excluded from these conversations. I am also an editor at Distilled Periodical, a publication that seeks to create well-researched opinion pieces on issues of societal relevance.
Personal fun facts?
I loved playing the violin to my succulents when I was a kid. Now that I'm at home for the entire fall semester, I've started doing it again.
What is your favorite remote working spot?
My desk at home, though I've been missing working at the CEID lately.