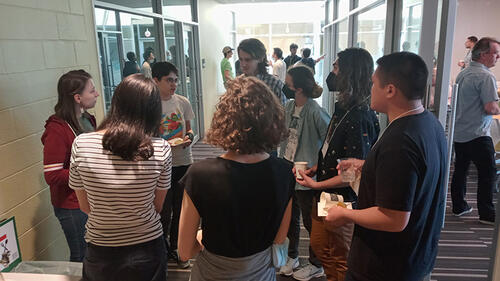 On June 8, Wright Lab held a community coffee hour to welcome a portion of the 20 undergraduate researchers who will be working at the lab this summer.  
Present at the event were undergraduates Audrey Cesene, Jason Guo, Spencer Greenfield, Forrest Hutchison, Ana Maria Melián, Luke Mozarsky, Emily Peng, Barkotel Zemenu, and Terren Wise.  Rumman Rahman, Trent Rayford, and Maria Zhang were unable to attend, and Aaron Chizhik is working remotely at Fermi National Accelerator Laboratory (Fermilab) this summer.
The remaining seven students are part of the new ONAOSI-Yale Undergraduate Research Experience in Instrumentation at Wright Lab program and will arrive and be officially welcomed to the Wright Lab community at an event on June 21.
This event also kicked off the 2022 summer programming for undergraduates at Wright Lab, which includes a series of workshops that are open to all undergraduates working in the Yale Physics department.  For a schedule of the programming, please see the link below.