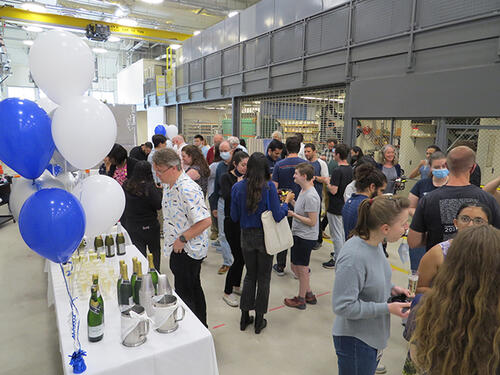 The Wright Lab community came together at 3 p.m. on May 16 in the Wright Vault to celebrate the 5th anniversary of the official opening of Wright Lab.
Karsten Heeger, director of Wright Lab, chair of the Yale Department of Physics, and professor of physics, opened the celebration with a few remarks recalling the beginning of Wright Lab to today and thanking the community.
Celebrants were treated to birthday cakes with pictures of the Wright Lab building and the Wright Lab logo on them, fruit, and drinks.  Blue, white, and silver balloons gave the Vault a festive air, and a slideshow with photos of Wright Lab throughout the years played in the background.
Photos of the event are being added  to a Flickr album; please click the link below and check back next week for more!
Please stay tuned for more anniversary events throughout the year!