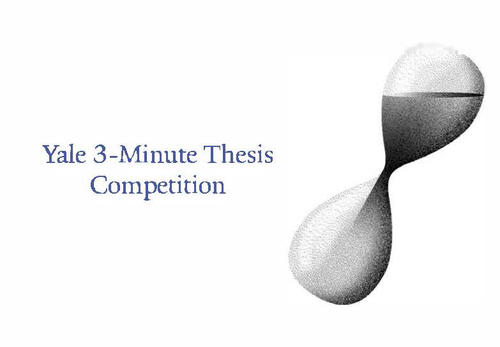 Wright Laboratory hosted the official preliminary round for the Yale University 3-Minute Thesis Competition (3MT) on February 26, 2020.
The program included the following talks, which could be up to 3 minutes long and include up to one (optional) slide:
David Caianiello, Chemistry, Bifunctional molecules that degrade circulating proteins 
Alisha Chan, Chemical and Environmental Engineering, Can Sustainable Stormwater Control Measures (SCMs) Impact the Number of Mosquitoes in Areas with a Combined Sewer System?
Arpit Dua, Physics, Fracton error correcting codes
Daniel Gaskell, Geology & Geophysics, How Do Dead Plankton Record the History of the Planet?
Yuri Gloumakov, Mechanical Engineering and Materials Science, Changing the way we control prostheses
Duncan Keller, Geology & Geophysics, Nanoscale Needles Reveal the Extraordinary Journey of Connecticut's Deepest Rocks
Jhe-Hao Li, Chemistry, How bacteria talk about stress and how we overhear it
Xiaotong Li, Computational Biology & Bioinformatics, Discover genomic abnormality for personalized medicine
Tong Liu, Physics, How small can it be? – inclusive jet measurement at small system heavy ion collisions
Yantao Luo, Geology & Geophysics, The Earth History We Stand On
Daniel Seara, Physics, Going back in time to measure biology's fuel efficiency
Trevor Wright, Physics, What's the Matter with the Universe?
Lily Zhao, Astronomy, Towards a True Earth Twin
Four contestants-Keller, Luo, Wright, and Zhao-advanced to the final round, which will be held on April 3, 2020. 
More information about Yale's 3-Minute Thesis competition can be found on the Yale Office of Career Strategy's website.