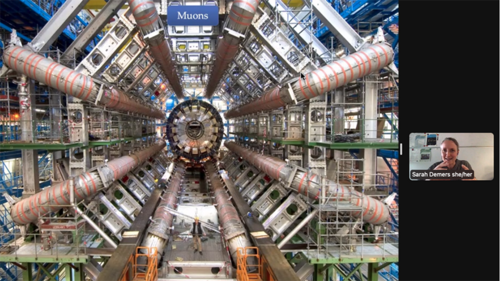 Yale and Wright Lab partnered with the GAINS Network to host the 2022 Girls Advancing in STEM (GAINS) Conference on April 7-8, 2022, via Zoom.
The GAINS conference brought together 214 high school girls and 20 teachers from 18 public and private schools in the United States, and also one school in Ecuador, who have an interest in STEM with 50 volunteer scientists from Yale University and several from Sikorsky Aircraft to explore STEM topics and careers.  
The conference opened on Thursday morning with a keynote address from Sarah Demers, professor of physics and a member of Yale's Wright Lab, calling in from CERN in Geneva, where she is spending the semester doing research.  Demers spoke about her career path and her research.
Demers said, "It was an honor and pleasure to be able to participate from CERN and tell the students about my research. I was inspired to share the time with so many impressive and energetic high school women and to think about their fantastic questions, like 'How do we know that a fundamental particle is really fundamental?' ! I wish that we could have gathered in person, but it was fun to be able to talk about the Large Hadron Collider while sitting 100 meters over it." 
The remainder of the two-day conference included two interactive sessions, virtual lab tours, tech talks and a career mixer.  The full agenda and session descriptions can be found at the conference website, linked below.
The conference was coordinated by Ann Decker, the director of the Duff Center for STEM Initiatives at Greenwich Academy and the founder of the GAINS Network; Karin Shetty, the assistant director of the Duff Center; and Victoria Misenti, program manager at Wright Lab.  Special thanks also go to Ann Rho, director of development for science strategy at Yale, who began the planning of the partnership from the Yale side.
Rho said, "I am extremely pleased that Yale could host the GAINS conference this year. It's always wonderful when our exceptional faculty and research community can serve as highly inspirational role models and mentors to open a brighter future for the next generation of women in STEM fields."