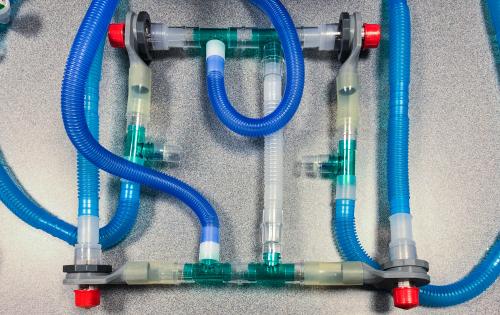 There is a shortage of ventilators across the globe, and it has been difficult for companies to begin producing enough of them at a scale to ensure everyone who needs one has access to the lifesaving equipment.
Two research teams at Yale are working with the Coalition for Health Innovation in Medical Emergencies  (CHIME), a multidisciplinary group that came together in March to address innovations related to COVID-19,  towards an innovative solution.   Wright Lab is involved as a member of the CHIME team.
The lab of Laura Niklason, MD, PhD and CHIME have been developing a ventilator that can treat multiple patients at a time.  Essentially, they want to develop a design that easy for hospital staff to put together using off-the shelf or 3D-printed components, and use in a very high-stress environment. After creating some computer-aided designs, the team printed out prototypes at the Center for Engineering, Innovation and Design (CEID), the Wright Laboratory, the School of Architecture, and even a home office. Those were then handed over to  the Niklason group so they could review it and work through some of the layouts and make a prototype, called 

PReVentS

.    PReVentS allows one ventilator to treat two patients simultaneously, and, critically, individually—functionally dividing the ventilator into two.  This model may even be able to be used for four patients. 
 
CHIME has also been exploring how to design a device that can be 3D-printed, added to a standard ventilator, and allow for the ventilation of multiple patients while still independently controlling the air flow to each, accommodating the differences in individual patients, such as lung capacity.  The team leading this project includes Wright Lab research scientist and associate director of education and instrumentation James Nikkel, with work being done at Wright Lab's Advanced Prototyping Center.  

The models designed by this team were sent to local companies, who can manufacture the devices in a quality-controlled environment that meets ISO-certification standards, using a biocompatible material.