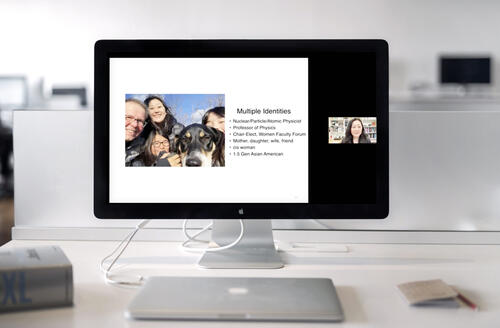 On March 23, 2021, Wright Lab associate professor of physics Reina Maruyama gave a talk at Yale's new STEM and Social Inclusion lecture series, discussing her life and career as a scientist.
According to an article in the Yale Daily News (YDN) about the event, "the series aims to expose students from underrepresented backgrounds to faculty mentors in STEM with similar backgrounds. Students involved in STEM research are invited to host each event, and are also able to ask the professor questions after their presentation."
The YDN article continued, "Maruyama talked about her life from birth in Japan to getting her bachelor's degree in Applied Physics from Columbia University and her doctorate from the University of Washington. She also spoke about her role now as a physics professor at Yale, where she oversees three projects in the South Pole, Italy and South Korea."
Maruyama was the third speaker of the new series, which is coordinated by Jacqueline Tanaka, associate director of STEM student success at Yale. The previous speakers in the series were Anjelica Gonzalez, associate professor of biomedical engineering, and Paul Turner, Rachel Carson Professor of Ecology and Evolutionary Biology.  Larry Gladney, Phyllis Wallace Dean of Diversity and Faculty Development in the Faculty of Arts and Sciences and professor of physics, will be the next speaker of the series, on April 6.
You can read more about the event and the series in the YDN article, linked below.  For more information about the lecture series, or to request access to the recording of the talk, please email Tanaka.