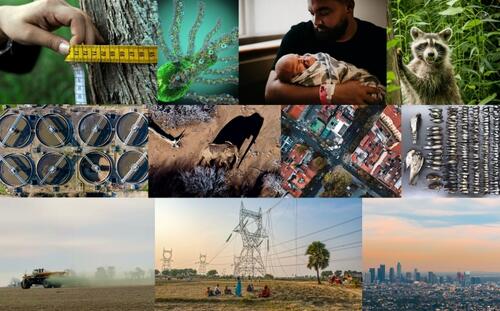 Wright Lab research Scientist James Nikkel and the Wright Lab Advanced Prototyping Center (APC) have been awarded, along with their collaborators, a Yale Planetary Solutions Project seed grant for their project on atmospheric CO2 monitoring called "Deployment of a Low-Cost Sensor Network to Measure CO2 Emissions and Pollution Exposure Across the City of New Haven".   Wright Lab graduate student and APC deputy director Arina Telles is leading the instrumentation effort for the project. This is the second seed grant that Nikkel and the APC have been awarded by the Planetary Solutions Project.
This year's project aims to create a reliable and accurate network of low-cost CO2 sensors throughout New Haven. The APC is making sensor packages to measure CO2, temperature, pressure, and humidity, and then transmit the data to a database for storage and analysis.
Telles has been working with the environmental scientists since last year to instrument a variety of sensors and create weather-proof enclosures to test them outside.   According to Telles, ensuring reliability of the sensor packages has been a challenge, since each low-cost sensor has its own interface and requires extensive testing to find and correct failure modes. As of now, they have a dozen sensors running in both environmental chambers and outdoor tests to calibrate their behavior and prepare for more widespread outdoor deployment.
In its second year, the Planetary Solutions Project seed grant program distributed over $1.5 million to 23 projects building novel solutions to improve human health in a changing climate, capture carbon more efficiently, cool our cities, and enhance the ability of plants and animals to thrive.
More information about the project is below. 
Deployment of a Low-Cost Sensor Network to Measure CO2 Emissions and Pollution Exposure Across the City of New Haven
Participants: Xuhui Lee, Yale School of the Environment; Drew Gentner, Department of Chemical and Environmental Engineering; Peter Raymond, Yale School of the Environment; James Nikkel, Wright Laboratory; Ravish Dubey, Yale School of the Environment
Cities are hotspots for carbon dioxide (CO2) emissions, which drive climate change, and particulate matter air pollution, which causes respiratory and heart problems. In cities, these two types of pollution are highly correlated due to fossil fuel combustion. CO2 emissions are generally measured at the country level, making the data too coarse to inform local climate mitigation actions. This team is developing low-cost Internet-of-Things sensors to measure outdoor air. They will monitor CO2 and particulate emissions in and around New Haven, quantifying air pollution exposure in different neighborhoods and examining correlations between exposure, demographics, and socioeconomics. Their technical innovations could be deployed in cities worldwide, providing useful data to help city planners understand the sources and effects of emissions.