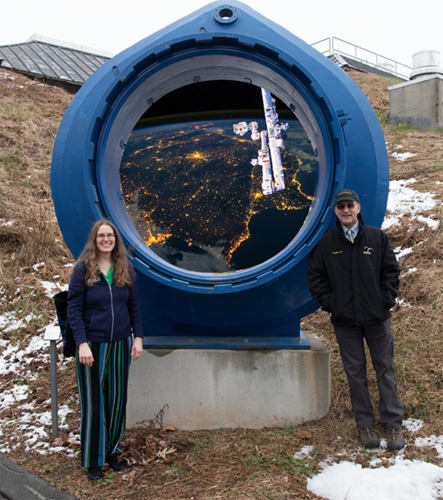 NASA astronaut Donald Pettit visited Wright Lab for a tour on December 4, 2019 before the opening of his exhibition Portraits of a Planet: Photographer in Space, which is on display at the Yale Center for Collaborative Arts and Media (CCAM) through March 6, 2020.
Pettit was joined by the executive producer of the exhibition, Peter A Blacksberg, as well as CCAM director Dana Karwas and CCAM writer-in-residence Alex Zafiris.
The group toured the Wright Lab facility, led by Wright Lab program manager Victoria Misenti.  The visit included stops at the Advanced Prototyping Center (led by Wright Lab assistant director of instrumentation and education James Nikkel); the teaching and research shops (led by shop managers David Johnson and Craig Miller); the J.W. Gibbs shop (led by Gibbs Machine Shop director Vincent Bernardo); the Vault and two experiments-HAYSTAC (led by professor of physics Steve Lamoureax) and SIMPLE (led by postdoctoral associate Ferndando Henrique do Rego Monteiro).
Photos of the visit, taken by Blacksberg, can be found on the Wright Lab Flickr site.
Please see also the Yale News article on the exhibition.
Donald R.  Pettit, Ph. D. is a NASA astronaut with a doctorate in Chemical Engineering. He was a staff scientist at Los Alamos National Laboratory, Los Alamos, New Mexico from 1984 to 1996.  Selected by NASA in April 1996, Dr. Pettit reported to the Johnson Space Center in August 1996. A veteran of three spaceflights, Pettit has logged more than 370 days in space and over 13 EVA (spacewalk) hours. He lived aboard the International Space Station for 5-1/2 months during Expedition 6, was a member of the STS-126 crew, and again lived aboard the station for 6-1/2 months as part of the Expedition 30/31 crew. NASA Biography