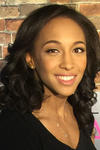 Research Area:
Neutrinos and Fundamental Symmetries
Name of award:
2019 Gertrude Scharff-Goldhaber Prize
Wright Lab graduate student Brooke Russell has been awarded the 2019 Gertrude Scharff-Goldhaber Prize.  The award, established in 1992 by Brookhaven Women in Science (BWIS), a nonprofit organization that supports and encourages the advancement of women in science, recognizes substantial promise and accomplishment by female graduate students in physics who are enrolled in the graduate program at Stony Brook University and/or performing their thesis research at Brookhaven National Laboratory (BNL). 
In 2014, Russell began doctoral research at Yale University under the supervision of Prof. Bonnie Fleming on the MicroBooNE experiment. She came to BNL in fall of 2016 to work under the tutelage of Xin Qian through a DOE Office of Science Graduate Student Research Award.  Since then, Russell has been working with physicists in Brookhaven's Electronics Detector Group on MicroBooNE physics analyses. 
This text has been excerpted from a BNL press release by Amber Aponte.